Freight car market
The Russian freight car fleet was comprised of 1,221,364 railcars as of the end of 2014, including:
242,200 railcars, or 20%, belonging to the Russian Railways Group fleet (freight car fleet operated by S&A of the Russian Railways Group);
979,200 railcars, or 80%, belonging to other owners.
As of 31 December 2014, the Russian Railways Group's railcar fleet (S&A operate the railcar fleet) was comprised of 242.2 thousand railcars
Overall, the Russian fleet increased by 21,100 railcars in 2014 (a 1.8% increase compared with 2013). The private rolling stock fleet of other owners expanded by 31,800 railcars (3.2%), while the Group's fleet decreased by 10,700 railcars (4.2%).
Over the reporting period, the freight car fleet not involved in the transportation process and located on public infrastructure averaged 339,000 railcars per day, including 215,000 railcars unclaimed for the transportation of loading resources of the operating fleet and 124,000 railcars of the non-operating fleet occupying railway station tracks.
Structure of the Group's railcar fleet,

'000 railcars

Indicator
2013
2014
Value
Change as %
Gondolas
129.3
113.7
–12.1
Tank cars
4.7
4.7
0.0
Flatcars
24.8
33.7
35.9
Box cars
31.2
25.2
–19.2
Other
63.1
64.9
2.9
The effect of the excess operating railcar fleet on Russian Railways infrastructure in 2014 led to service speed losses of 1.27 km/h, a decrease in locomotive productivity by 70,200 tkm gross per day and a slowdown in turnover by 3.45 days.
The overall negative effect of the excess fleet on the financial results of Russian Railways is estimated at RUB 14.0 bln in January-December 2014.
Structure of Russian freight car fleet,
'000 railcars

Zoom
Download XLS
Structure of Russian freight car market by freight turnover volume,
%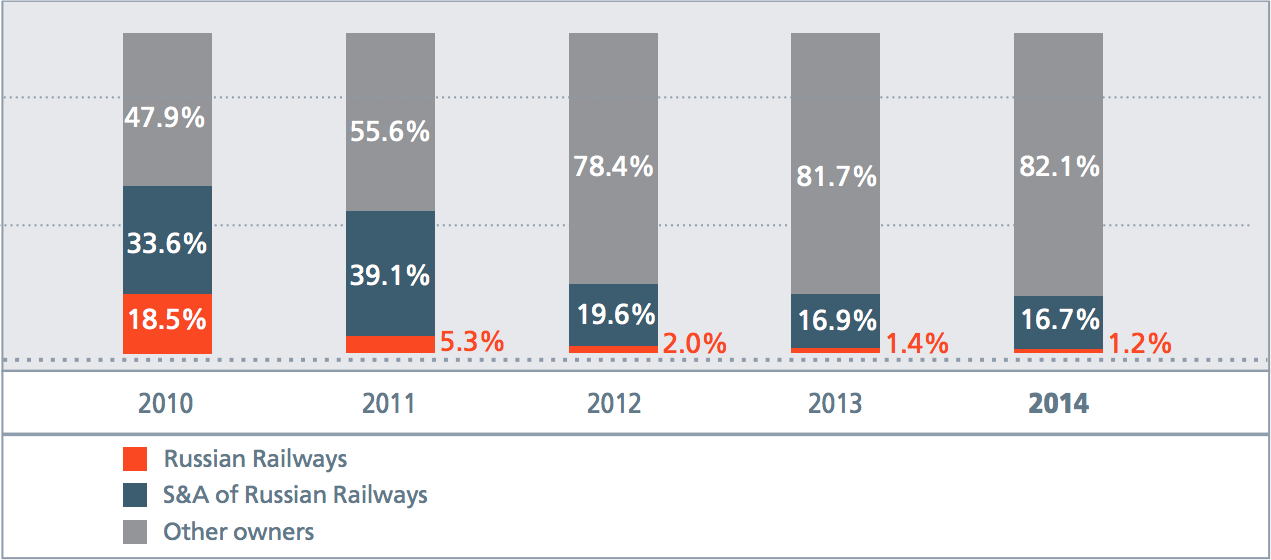 Zoom
Download XLS
Total freight turnover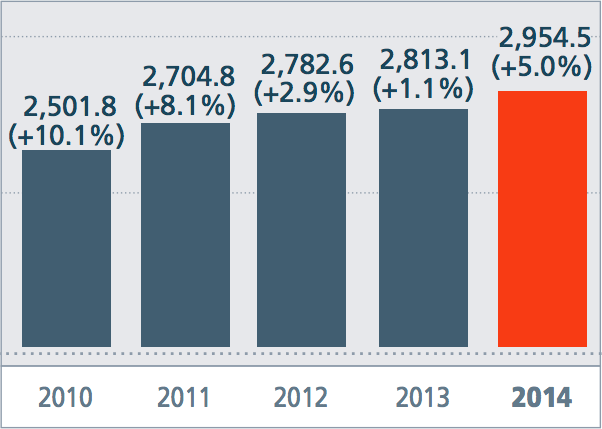 Zoom
Download XLS